In order to sell on the Zalando marketplace, there are a number of strict requirements which must be met- which includes producing documents identical to the ones which Zalando produce themselves. 
When we heard of the problem which ChannelAdvisor's clients were facing with meeting these document requirements, we knew that we could help.
The Retain.me solution solves the issue of creating correctly formatted, Zalando compliant, transactional documents.
By creating 100% compliant, automatically generated documents, this issue is removed for any of ChannelAdvisor's clients who might be looking to sell on the Zalando marketplace. After receiving the order data from Zalando, ChannelAdvisor's API enables Retain.me to pull the data, which will then generate the compliant documents in real-time.
Once the documents have been generated, they are then sent to either the OMS or WMS, by API Call, FTP, or by use of the Retain.me User Interface.
How it Works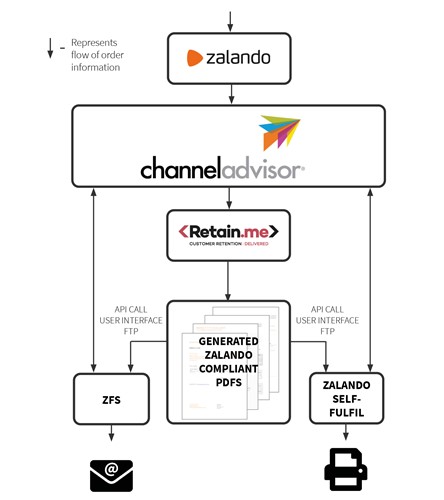 For more information, get in touch.